Who was the first person to die of Cholera in Gateshead?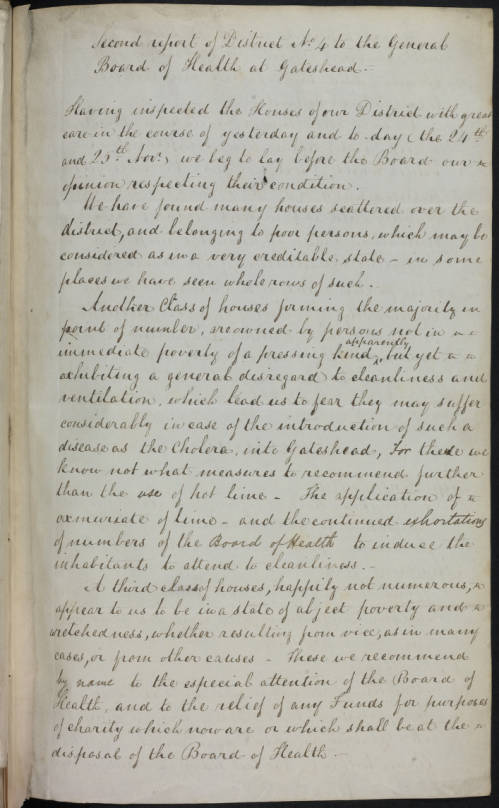 Transcript
On Sunday the eleventh of December last they had a pease pudding for dinner and some of it was left till the Monday; on Monday afternoon his wife Mary Hindmarsh took some of the cold pease pudding and eat very hearty of it, and about four o'clock PM she was then with a violent purging, and was obliged to go to bed, and passed a bad night with vomiting and purging.
On the Wednesday his wife had been out selling small articles, rags, and shoes, and she came in and supt the broth and eat the cold potatoes, and bit fat Bacon and she got a farthings worth of small Beer from Mrs Cotters and then she took immediately a vomiting: and it wrought her both up and down, and she continued that way all the whole night, out of bed and in a bed all the night through till the Thursday morning.
About 7 o'clock on Thursday morning when he go up, she says "Oh I'm bad this morning. I wish you would give me the Pot to make water" and he did so and led her to it between his arms, and when she had done he took her in his arms, and led her to the bed, and she had lost all power, and could not help herself, and then she got upon the bed and she fell all down upon the bed.
He called the neighbours and afterwards send for Mr Brady (a respectable surgeon in Gateshead) and about half past Seven Mr Brady came and gave her Medicines. But he said that broth and that small Beer was the cause of her death, and were sour upon her stomach.
At one o'clock she was worse: she slept from about two till eleven o'clock that night when she dies.
Activities
Imagine you are Mary Hindmarsh's doctor, note down her symptoms and probable cause of death
How many days did it take Mary Hindmarsh to die?
Why do you think the doctor said she died because she ate broth (soup) and drank a small beer?
Did you know?
Cholera first came to Britain in 1831, when a ship carrying sailors with the disease docked at the port of Sunderland.